Klimax DS / 3 (Katalyst variant)
<< Klimax DS / 2 (Exakt variant) Klimax DS / 0 >>
 

Linn Klimax DS /3
variant

Digital music player with -link capability

• Product Name:

Klimax DS/3


• Date of Introduction:
Sept 2016 - Sept 2018



• Type:
Digital music player with Katalyst DAC

& Exakt-link technology







Full Table of Contents / Index      Click to Show / Hide.....
Product info
• Product Name:

Klimax DS/3


• Date of Introduction:
Sept 2016 - Sept 2018



• Type:
Digital music player with Katalyst DAC

& Exakt-link technology

Hardware Upgrades

Note: It should be noted that this upgrade information may at times be out of date and should not be used as a current list of what upgrades are available.

Initial Configuration
Considerations before installation, make sure that you have

Stable mains supply
100-120V rms 50~60Hz,
220-240V rms 50~60Hz

a local LAN/Ethernet connection for this product

Installation notes
Please read the following carefully before installing the unit in your system – your unit may need to be reconfigured by your Linn retailer.
Back Panel connections

MAINS INPUT - To connect to the mains electricity supply.
EXAKT LINK - To connect to Exakt compatible devices (Exaktbox, Exakt Speakers, Urika II etc)
ETHERNET - To connect to a network (100Base-T)
RS232 PORTS - For connection to Linn source products without ethernet ports.
FALLBACK - Used when reprogramming the unit.
EARTH GROUND - For connecting the unit to an earthing terminal if no mains earth is available or for joining the earths of other products in the system to improve perfromance in areas of poor/noisy electrical earth conditions.
UNBALANCED OUT RIGHT, LEFT - To connect to a preamplifier (or power amplifier when internal volume control is enabled) with unbalanced (RCA) analogue inputs.
BALANCED OUT RIGHT, LEFT - To connect to a preamplifier (or power amplifier when internal volume control is enabled) with balanced (XLR) analogue inputs.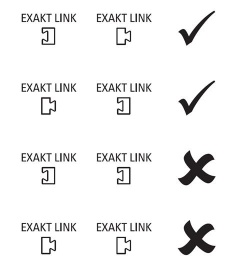 Cables
Exakt Link uses readily available network cables:
CAT 5 UTP/FTP
CAT 6 UTP/FTP
Note: There is no change in the audio performance of the Exakt Link between Cat 5 or Cat 6 Cables.
Configurations
Exakt Systems can be configured either a star from the system master or as a daisy chain configuration. Examples of each configuration is shown below.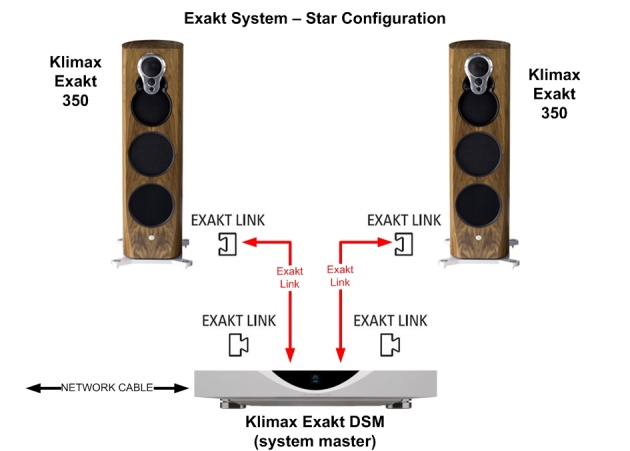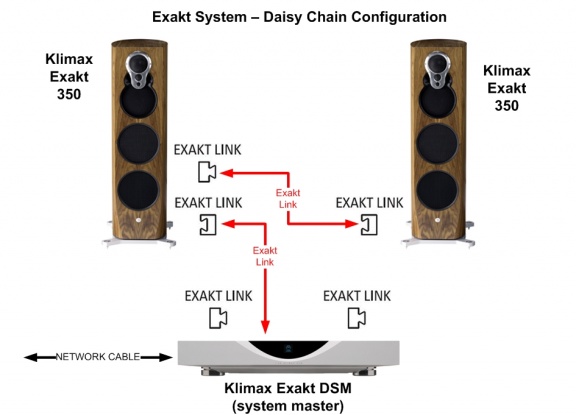 Note: There is no change in audio performance between the star configuration or the daisy chain configuration.
For more examples and information check HERE
To enable Exakt options on the Exakt DS ensure that the internal volume control is turn ON in Konfig.
Front Panel Connections

POWER SWITCH- For switching the power to the unit on and off
Download App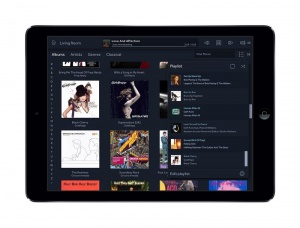 The Linn DS/DSM can be done from many control points at the same time.

The name of this control App/software is KAZOO..
Kazoo control App/software is available for

Windows PC's,
MAC computers,
Android phones/tablets and
Apple iPhone/iPads.


You can download the Apps from: www.Linn.co.uk > Menu > The Linn control App - Kazoo
Setup and changes
There are two ways to configure, (if required), your Linn DS/DSM player/Speakers etc:
1. Windows 10 PC or MAC OSX app called Konfig: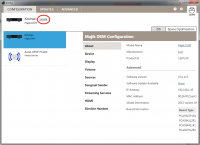 This Konfig App can be downloaded from KONFIG App
This will allow to change the Room name, Kiko name, input name and other settings. This can be changes by yourself and/or your Linn Retailer.

Details of most of the options are listed in the Konfig Manual, this covers a lot of options
2. Web-browser App called Manage systems that can also be used on your Tablet: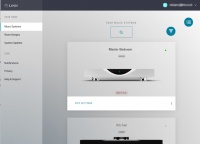 This does not have as many features as the Konfig App, above, but will allow you to do most of your changes.
Before you do anything you will need to have a Linn Account. This is a simple process and can only be performed using the Kazoo App.
Details on how to create your Linn Account and how to use Manage systems can be found in the Manage Systems page.
Space Optimisation
| | | |
| --- | --- | --- |
| | for ALL Linn DS/DSM products | |
Linn Space Optimisation is currently configurable using either the Konfig app or the Linn Account Manage systems.

Click the above picture/icon for more information of that version of Space Optimisation.

More details of what Space Optimisation is can be found at www.Linn.co.uk


What is the difference between Space Optimisation & Space Optimisation+?
This is applicable to both Linn Konfig and Manage System/Kloud Konfig
Space Optimisation is for NON-Exakt systems. This uses the direct analogue outputs of the Linn DS/DSM
Space Optimisation+ is for Exakt speaker. This is used for loudspeakers fed via the Exakt-link AND used with as a digital crossover.
The "plus" is to signify the more musical detail that is capable within the Exakt system and Space Optimisation due to timing control of each individual drive unit etc. (This is not possible with non-Exakt systems as the loudspeaker is only driven by one common audio feed per channel.)
Is the Linn Account Manage systems only available for the new Linn DSM's
Both Applications can be used for ALL Linn Products.
The only limitation is that the Linn DS/DSM must have Davaar64 to run Linn Account Manage systems]
Why don't you use a Microphone in Space Optimisation?
Check this link for more detail.

Can I use "Linn Account Space Optimisation" with my Exakt system?
From November 2019 you can now use Linn Account Space Optimisation with Stereo and Surround Exakt systems.

What are the differences between the Konfig Space Optimisation and Linn Account (Kloud Konfig) Space Optimisation?
The differences are explained HERE
General products manuals and information
Controlling the product User Guide
Product setup:Konfig user manual
Third Party Software Copyright
Features
Tidal
Tidal is supported in countries listed HERE on the Tidal website
Qobuz
Qobuz Streaming CD or Hi-Res quality music
Check for Qobuz FAQ's with LInn DS/DSM
Calm Radio
Calm Radio "Music that helps you get through the day "
Spotify Connect

Spotify Connect can now be used on Linn products using firmware Davaar59 (Aug 2017) or later firmware. (That is, if your Linn DS/DSM has had a software update after Aug 2017 then you can use Spotify connect)

This allows you to select and Play your Spotify music on your Linn DS/DSM players and use the internal volume control on the Linn DS/DSM.


To connect up your Spotify account to the Linn DS/DSM :

On your control device, iPad/Android/PC/MAC etc, connect to the same computer network as you Linn DS/DSM
Start your Spotify app, (if it is already open then close the App, wait a few seconds, and open the App)
Now check the Spotify Speakers icon to find your Linn DS. (In some cases you may have to power cycle your Linn DS/DSM before this is seen)
Select you Linn product and you can now play to the Linn DS/DSM from the Spotify account and control the Linn DS/DSM volume.
This is web controlled and if your Linn DS/DSM has already been paired with your Spotify account you will be able to control even if you are not on the same ethernet network.(So be careful that if you accidentally select the Linn DS/DSM as a Spotify speaker and put the volume up high and you are not at home)

Check FAQ SpotifyConnect for more information.
Roon

The Linn DS/DSM IS a ROON CERTIFIED device

The Linn DS/DSM requires Davaar63 (May 2018) or later firmware to work with Roon V1.5 and above.(That is, if your Linn DS/DS/HUB has had a software update after May 2018 then you can use Roon)

The Linn DS/DSM is a "Roon Tested network player"
This allows full hi-res audio, (192k/24bit) playback controlled by the Roon system

Songcast is used to share audio between Linn Products when using Roon. It does not use RAAT (Roon Advanced Audio Transport) for sharing Music so cannot be setup as a Roon-Ready sharer.
Setup
On Linn DS proxy setups, Linn DS with Linn Kontrol preamplifer connected with RS232, the Roon volume control will not control the Linn Kontrol volume. This will only work with Linn DSM or Linn DS with internal volume control disabled.
A Roon HUB is required in your network system to allow Roon to control your Linn DS/DSM.
ENABLE the Linn DS/DSM player in the Roon - Settings - Audio - NETWORKED section.
In the Settings > Setup make sure that the Subnet of Linn Streaming is the same as the network that the Linn DS is on. Otherwise they will not show in the Audio
Control
Primary control is through Roon.
:Transport IR is disabled on the Linn DS/DSM when the Roon input is selected from Linn DS firmware release Davaar80 (Nov 2020)
Issues
Roon uses the Linn DS/DSM as a media player, the control interface IS Roon.


• I cannot see any Linn DS in the Audio list...
• I am only getting Airplay quality audio from the Linn DS using Roon

In Roon Audio setup, you will have a similar setup with Roon tested devices with the ENABLE button:
The Linn DS/DSM products have to be declared as "Roon Tested", Networked devices in the Roon Core settings. (The "AIRPLAY" option for the Linn DS/DSM must be disabled within the Roon Core).
Click on the Roon Ready - Enable and give a name to the Linn DS/DSM. (In the example below this has been named Merlin Lounge)

• I press STOP and the Roon starts playing again...

Transport (play / pause / stop) and Volume can be controlled using Kazoo or Ir handset. Although later versions of Roon will counteract these commands. Only use the Roon controller software to control what is playing.
Linn DS Firware Davaar80 onwards will disable transport controls whilst on the Roon input of the LInn DS/DSM
• If I select an external source whilst playing Roon, I need to reselect the source to get it Playing.

This can be due to a confusion as the Roon will send a Stop command to the Linn DSM as you exit the Roon source. However, as the Linn DSM will probably have changed to this new source, then this new source is stopped by Roon. On external sources this can only be recovered by selecting another source and going back to originally selected source.
The solution is to Stop or Pause the Roon source BEFORE you change to the a different input on the Selekt DSM.
Deezer
To create and add Deezer tracks to a Linn DS/DSM playlist you require the Linn App
This function is NOT available on the Kazoo or Kinsky Apps
The Deezer is broadcast from the Internet straight to the Linn DS/DSM and you use the Linn App to select and play the Music on the Linn DS/DSM.
AIRPLAY
Check <HERE> for any issues with Airplay
FAQ's
Check: