Guide:Setup and Changes
There are two ways to configure, (if required), your Linn DS/DSM player/Speakers etc:
1. Windows 10 PC or MAC OSX app called Konfig: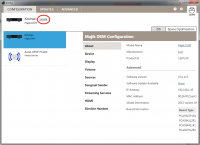 This Konfig App can be downloaded from KONFIG App
This will allow to change the Room name, Kiko name, input name and other settings. This can be changes by yourself and/or your Linn Retailer.

Details of most of the options are listed in the Konfig Manual, this covers a lot of options
2. Web-browser App called Manage systems that can also be used on your Tablet: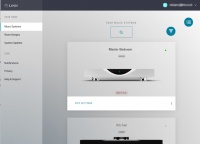 This does not have as many features as the Konfig App, above, but will allow you to do most of your changes.
Before you do anything you will need to have a Linn Account. This is a simple process and can only be performed using the Kazoo App.
Details on how to create your Linn Account and how to use Manage systems can be found in the Manage Systems page.
Space Optimisation
| | | |
| --- | --- | --- |
| | for ALL Linn DS/DSM products | |
Linn Space Optimisation is currently configurable using either the Konfig app or the Linn Account Manage systems.

Click the above picture/icon for more information of that version of Space Optimisation.

More details of what Space Optimisation is can be found at www.Linn.co.uk


What is the difference between Space Optimisation & Space Optimisation+?
Space Optimisation is for NON-Exakt systems. This uses the direct analogue outputs of the Linn DS/DSM
Space Optimisation+ is for Exakt speaker. This is used for loudspeakers fed via the Exakt-link AND used with as a digital crossover. The "plus" is to signify the more detail that is capable within the Exakt system and Space Optimisation.
Is the Linn Account Manage systems only available for the new Linn DSM's
Both Applications can be used for ALL Linn Products.
The only limitation is that the Linn DS/DSM must have Davaar64 to run Linn Account Manage systems]
Why don't you use a Microphone in Space Optimisation?
Check this link for more detail.

Can I use "Linn Account Space Optimisation" with my Exakt system?
From November 2019 you can now use Linn Account Space Optimisation with Stereo and Surround Exakt systems.

What are the differences between the Konfig Space Optimisation and Linn Account Space Optimisation?
The differences are explained HERE