Klimax Exakt DSM

Getting Started
Product info
Product Name: Klimax Exakt DSM (2013 Variant)
Date of Introduction:Sept 2013 - Sept 2016
Replaced by Klimax Exakt DSM/1 in 2016
Type: Integrated digital music player and preamplifier
Hardware Upgrades
None
Note: It should be noted that information may at times be out of date and should not be used as a current list of what is upgrades available.
Support
Latest software
Manuals
Using the Linn DS/DSM/HUB with IR handset, PC, MAC, Android tablet, iPad/iPhone...
Product setup:Konfig user manual
Surround Sound with Exakt systems
Third Party Software Copyright
Network Setup
Back Panel Connections

ANALOGUE IN RIGHT, LEFT - To connect sources with phono outputs.
BALANCED IN RIGHT, LEFT - To connect sources with balanced (XLR) outputs.
EXAKT LINK- To connect to Exakt compatible devices
SPDIF IN - To connect sources with Spdif digital outputs.
ETHERNET - To connect to a network.
TOSLINK IN- To connect sources with Toslink (optical) digital outputs.
MAINS INPUT - To connect to the mains electricity supply.
FALLBACK - To put the device into Fallback mode (used when reprogramming the unit).
HDMI IN 1, 2, 3 - To connect sources with HDMI outputs.
HDMI OUT - To connect to a display device with HDMI inputs.
LED Status
Each of the Exakt Link ports have two status LED's. The function of these LED's is given below: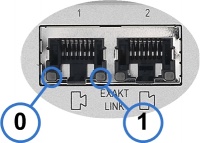 | | | | |
| --- | --- | --- | --- |
| LED | OFF | ON | Flash / Blink |
| LED0 | Link Port Disabled | Link Port Enabled | n/a |
| LED1 | No Link | Product Discovered | Activity |
Front Panel

DISPLAY
ON / OFF SWITCH
Installation
Please read the following carefully before installing the unit in your system – your unit may need to be reconfigured by your Linn retailer.
FAQ's
Check:

For further assistance, try our customer support pages