Urika II

Product info
Date of Introduction: Jan 2018
Type: MC Phono Stage using Exakt technology
For use with Linn DS/DSM with Exakt sockets
Requires a Radikal power supply
Features
Moving coil (MC) internal phono stage for LP12
The most precise implementation of the RIAA curve
Converts music signal to digital at the earliest point possible
Lossless digital output over Exakt Link
Component manufacturing tolerances measured and corrected
Optimised for your chosen cartridge
TOSLINK digital output (192K / 24bit)
Support
Manuals
Konfig for setup of the Urika II
Back Panel Connections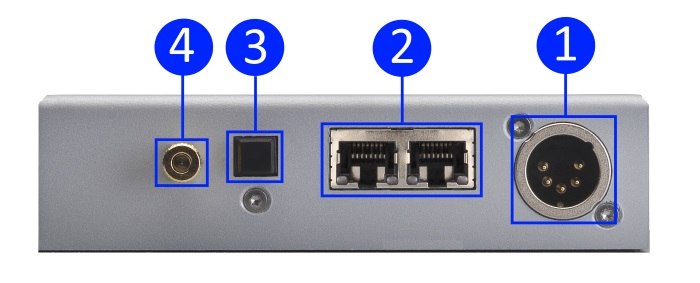 RADIKAL INPUT - For connection to the RADIKAL LP12 motor power supply. 1
EXAKT LINK- For connection of Exakt products (Linn DS/DSM with Exakt sockets/speakers/ExaktBox).
TOSLINK DIGITAL OUTPUT - To connect to an external Digital recording device 2
EARTH GROUND - For connecting the unit to an earthing terminal
1 The RADIKAL will only supply power to the URIKA II when the turntable is rotating.
2 This will provide 192k/24bit PCM stream. Note that this connection cannot be used on its own, the Urika II MUST be used with a Linn DS/DSM with an Exakt-link connection for control and operation
EXAKT LINK Connections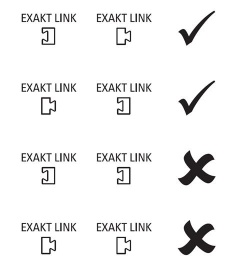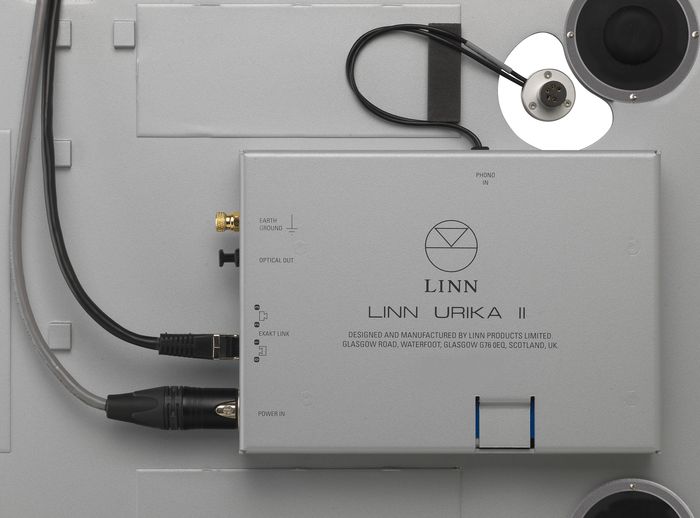 Operation
Requirements for operation
Linn Radikal: to supply power to the Urika II
Linn DS or DSM with Exakt-link connections: to allow audio/control & configuration from the Linn DS/DSM. Speakers can be analogue connections from the Linn DS/DSM sockets or Exakt speakers from the same Exakt-link connections
Cartridge selection
A selection of MC cartridges are available preset up for the Urika II in Konfig, such as:-
Linn: Akiva, Kandid, Klyde, Krystal
Benz: Mace Ace S
Denon: DL-103
Dynavector: DV-20X, XV-15, XX2 Mk2
EMT: JSD5, TSD15 SFL
Lyra: Argo, Delos
Sumiko: Pearwood Celebration II
Van Den Huk: The Frog
Audio-Technica: AT-ART1000
Note: It should be noted that information may at times be out of date and should not be used as a current list of what is supported.

Cartridges that that are not listed above can be added with with Gain, Input Resistance and Input Capacitance values. (The preset cartidge settings can be changed after cartridge selection)


ENSURE THAT THE PLATTER IS ROTATING (POWERED ON USING THE RADIKAL) BEFORE ANY CARTRIDGES ARE SELECTED OR SETTINGS MADE.



On the underside of the Urika II Trampolin base there is a small unmarked hole around the mid armboard location. This is the Fallback button.
Make sure that the Linn DS/DSM is powered on BEFORE you press the FALLBACK button.
EXAKT STATUS INDICATORS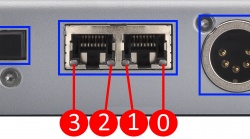 EXAKT LED Status
| | | | |
| --- | --- | --- | --- |
| LED | OFF | ON | Flash / Blink |
| 0 Master Port | No Link | Link Discovered | Link Activity |
| 1 Audio Clock | No Clock | Clock locked | Clock not locked |
| 2 Slave Port | No Link | Link Enabled | Link Activity |
| 3 Software Status | Not Configured | Running | Hardware Fault |
Sample connection options
When you design an EXAKT-LINK cable run please remember that when the LP12 is OFF, (that is, the LP12 platter is NOT being driven by the Radikal), the URIKA-II is powered OFF. This will kill any EXAKT communication AFTER the URIKA-II. E.g. if you have an Exakt link from the Klimax DSM to Urika-II, then Urika-II to a Klimax 350E speaker. When the turntable is turned off, then the Klimax 350E will also turn OFF
Urika II with Exakt speakers daisy chained wired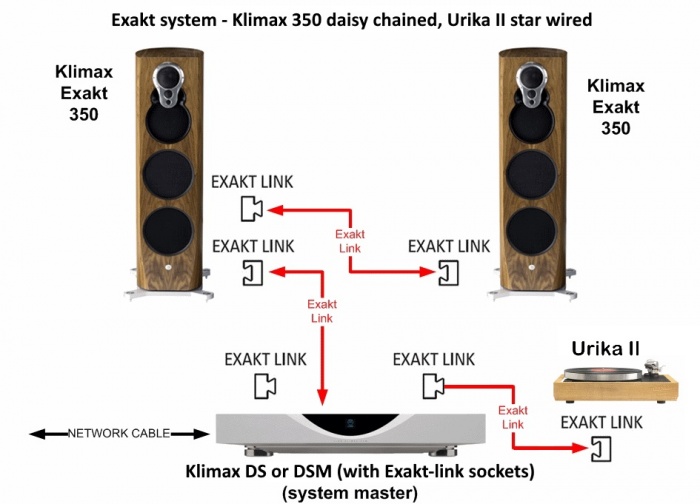 Urika II with analogue speakers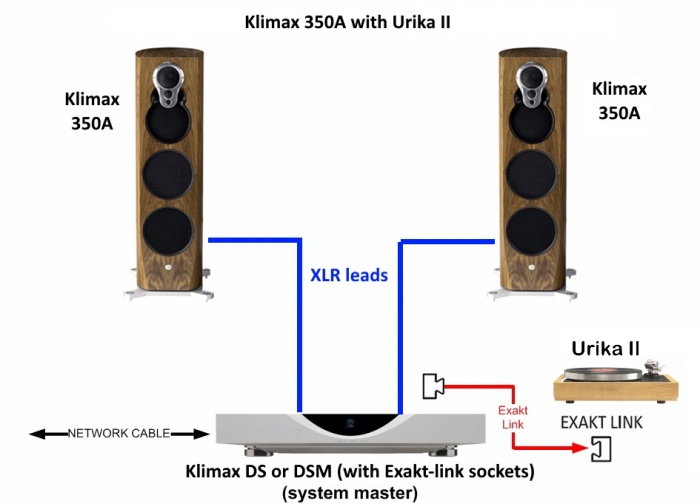 Urika II with Exakt speakers star wired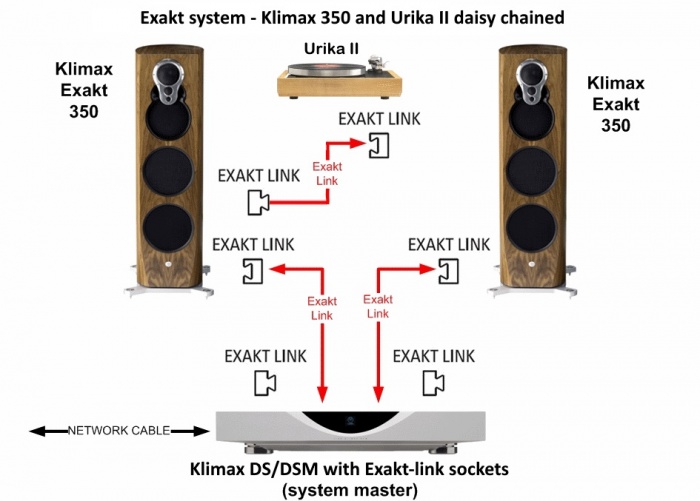 ..........
Check HERE for information on Exakt link connection
Trouble shooting
Check Exakt trouble shooting

For further assistance, try our customer support pages