Info:Series3-Mono-Stereo
The Series3-301 can be configured for Single playback. (This is when left and right hand channel audio is mixed together to give one speaker)

Or connect a Series3-302 partner speaker for Stereo playback. (One speaker for Left hand channel and one speaker for Right hand channel)
The Series3-302 partner speaker requires its own mains power cable and a CAT-5 Exakt-link cable to hook up to the Series3-301
Example: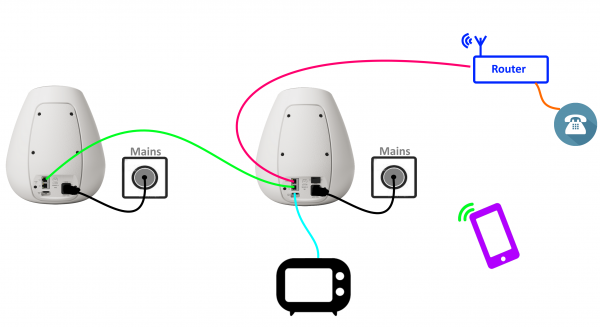 Configure for use with Series3-302 partner speaker
     
Add/Remove a Partner speaker setup procedure

(This will change the Series3-301 from MONO to STEREO and use the Series3-302 as the other STEREO channel) :

1. Connect or remove the Series3-302 speaker as required:
     * Stereo mode:Connect the Series3-302 using an Exakt-link cable to the Series3-302
     * Single (mono) mode: Disconnect the Series3-302 Exakt-link from the Series3-302
2. Press and HOLD both buttons & on the Series3-301 until half of the Volume indicator lights illuminate

(More detail of the buttons and location can be found HERE

3. This process is complete when the Series3-301 volume indicators are all illuminated for a few seconds and return back to volume level display.
The On-line setup guide can be found https://www.linn.co.uk/setup
Check Setup > Wiring for more example