Template:FAQ;AIRPLAY1 FAQ
iPad/iPhone, cannot find Linn DS in Airplay
IOS10
The Airplay screen location has moved with IOS10.
This is now a up-swipe followed by a left-swipe to the Airplay screen
IOS11 cannot find Linn DS in Airplay
The Airplay screen location has moved with IOS11.
This is now a up-swipe, then select the Airplay icon (highlighted in red). This will open the next screen and select you Linn DS/DSM to Airplay to.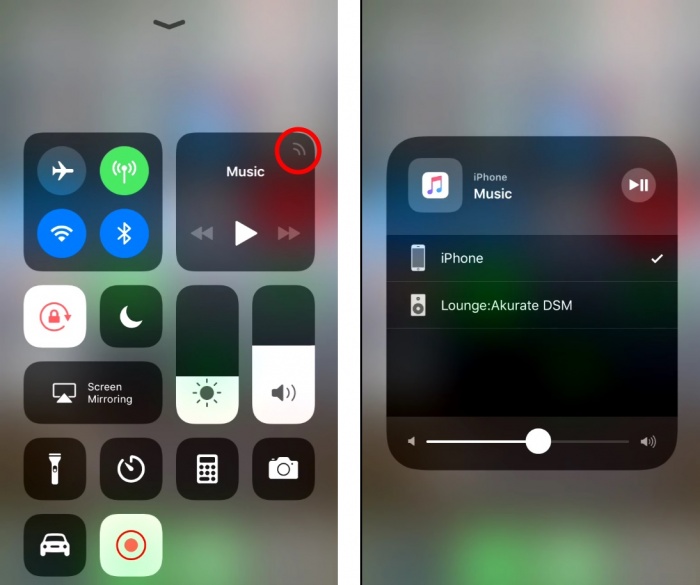 Airplay/Songcast keeps dropping out on a Wifi connection
This can be a common problem if the Wifi communications to temperamental. The commands from the iPad/Android are sent but lost because communications noise.
You may think that your Wifi is good as it works OK with the internet but this is not the case. (You have have to double click some pages to get them to show, this can be due to poor wifi or some pages are slow in loading, this can be due to poor communications)
REASONS FOR INTERMITTENT OPERATION
Apple devices Wifi settings
require the Wifi to be set-up to a specific configuration or it will otherwise start looking for a Wifi signal that does support this configuration Check Here for details of what to check or iOS and OS X: Recommended settings for Wi-Fi routers and access points]
Wifi noise
This noise can be generated by Microwave ovens, DECT phones, wireless Video repeater, Taxi Radios, neighbours Wifi etc. so we would suggest checking this with wifi scanner software such as Wifi-Analyzer / Insidder / NetSpot / VIStumbler, this can be used to find out who else is broadcast on the same channel are your Wifi and causing interference.
This allows you to check your Router/WAP Wifi settings and move them to a cleaner channel. There are two frequencies in use with Wifi, these are 2.4GHz and 5GHz. the 2.4GHz is the typical frequency used, the 5GHz is fairly new so check that your iPad/Android can support this bandwisth before using it.
If you have DECT phones make sure that they are not close (>2M) to your Router or Wifi devices
Routers / Wireless Access Points
Some Routers/WAP devices are very poor with UPnP control, namely Sky and BT. If you have one of these Routers we would suggest adding 'Subnet' Router of one that Linn has tried and works reliably.
On the Wireless Access Points check the DTIM setting. Apple recommends a setting of 3 or higher.