Linn DS Radio
Linn DS Radio
Introduction
Cara 6 sees the introduction of a dedicated radio source for all Linn DS devices. TuneIn Radio (previously RadioTime) is the selected radio provider. Radio stations are stored and selected for playback as Presets. You are allowed a maximum of 100 presets per device.
Initial Setup
Your Linn DS device must be running Cara 6 firmware or higher. Click here for information on updating (using Linn Konfig)
Initially every Linn DS device is linked to the Linn Worldwide TuneIn Radio account. The first three presets in this account are high quality radio stations hosted by Linn Records (Linn Radio, Linn Classical, and Linn Jazz)
Linn provide a number of regionalised TuneIn Radio accounts as well. You can select the relevant account from Linn Konfig (version 3.6 or higher).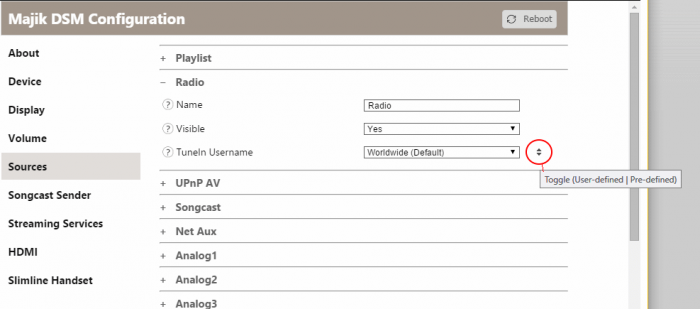 Customising your Presets
You can create and customise your own list of radio presets using TuneIn Radio. Click here to find out how.


Listening to Radio on your Device
Using the handset (REM 019)
Ensure the handset is in DVD mode by pressing the DVD button (at the top left)
Select the Radio source on you Linn DS (device firmware must be Cara 6 or higher)

Source Only Devices (Klimax DS, Akurate DS, Majik DS, Sneaky Music DS): use the 'ZOOM' key to select the radio source (chosen becuase it is also labeled 'TUNER'). Use the 'SUB-T' key (labeled 'CD') to select the playlist source
Source Devices with External Inputs (Majik DS-I, Sekrit DS-I): Use the source +/- keys to toggle between sources

Select the corresponding preset number using the numeric handset keys (ie '1' to listen to preset 1, '2' + '7' to listen to preset 27
You can also browse through your preset list using the up and down arrow keys and select a station using the center (circle) select button.
Using the small Klimax DS handset
Use the 'Record' key to toggle between playlist and radio sources
Must press the 'Setup' key first to use the remote to browse and select radio presets
All other behavior is the same
Using Kinsky Desktop
Load Kinsky Desktop (version 3.3.6 or higher)
Select the Radio source on you Linn DS (device firmware must be Cara 6 or higher) using the drop down box on the right hand pane
Double click the preset station you want to listen to