Template:FrontPanel:MAJIK DSM/4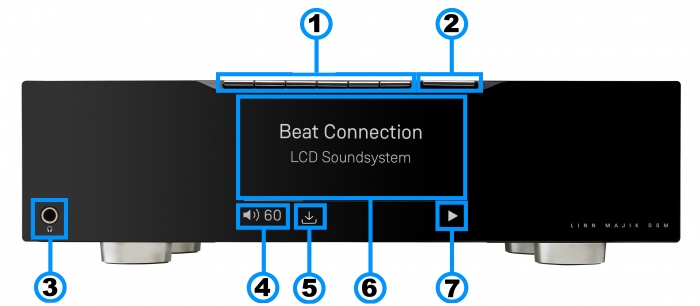 1. PIN BUTTONS1- Personalised media selection / Shortcut buttons/Pins 1-6. Creation on PINS can be found in the Kazoo Manuals or Linn App
2: Control button2 - Main control interface switch (for Volume, Menu navigation and selection).
3. Headphone socket - 1/4" / 6.35mm Jack .
4. Volume level & Mute - indicators of Volume level and Mute state.
5. Software update available - Use Linn App or Konfig to perform this update.
6. Media information - This will show the current source name/track name/Radio station etc and the Majik DSM Menu display.
7. Transport information' -Tthe Play/Stop/Pause/Buffering symbol to shows you the current transport state.
Notes

1 A quick press of this button will select your PIN. For more information on PINS check the FAQ-What is a PIN

> Quickly press the PIN to action it.
> Press AND HOLD to show a preview of what this PIN can do.

2-Volume/Source/Menu/Transport button

Quick press/Tap action
*Left/Right buttons:

> Decrease/increase the Volume levels in standard mode
> Move left/right in Menu mode

*Centre button:

>Toggle between Pause/Play if you are playing a Music stream such as a Playlist, Tidal, Qobuz, Spotify.
>Press AND HOLD for Standby
> "Select" in Menu mode.

*Up/Down buttons

> Select Source
> Move Up/Down in Menu mode