Majik sub chassis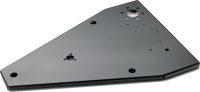 Product Information
Product Name: Standard/Majik sub-chassis
Date of Introduction: Aug 2013
Type: Turntable sub-chassis
Description
Aluminium sub-chassis with mounting for laminate armboard
Providing a solid and rigid platform for the LP12, the multi-layer box construction of 1.5mm thick aluminium provides strength and rigidity and when teamed up with the LP12's five-layer laminated armboard, creates a firm and acoustically damp platform for your tonearm.
The Majik Sub-chassis is fitted as standard to the Sondek LP12 / Majik LP12 turntable. Also available separately as an upgrade, this offering increased performance for any earlier deck that features the older 'standard' sub-chassis design.
Installation
This sub-chassis will need to be installed and configured by your Linn retailer.
For further assistance, try our customer support pages