Majik Motor PSU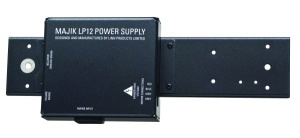 Product Information
Product Name: Majik Motor PSU
Date of Introduction: Dec 2007
Type: Turntable power supply

Features:
Power supply for Majik LP12

33 RPM (45 RPM with pulley adaptor)
Support
Operation
Power switch on LP12 top-plate. Switch on a wait a few seconds for the Turntable platter to get up to speed.
Installation
Your Majik LP12 motor will need to be installed and configured by your Linn retailer.
For further assistance, try our customer support pages