Lingo 4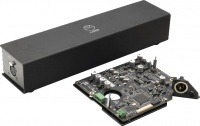 Product Information
Date of Introduction: Jan 2018
Type: Turntable power supply

Features:
Power supply for LP12 with on-board circuitry which is externally powered
Supplied with 12V AC motor for LP12
Speed management system checks speed on every rotation
Dual speed: 33/45 rpm


Dimensions of power supply module:
H 65mm x W 75mm x D 312mm
H 2.5" x W 3" x D 12.3"

These dimensions are WITHOUT power connectors fitted
Support
Operation
Switch Operation:

When the LP12 is powered off, a short single press of the LP12 switch will start the deck on 33 rpm mode
When the LP12 is running, a short single press of the switch will change the speed between 33 rpm and 45 rpm
When the LP12 is running, a long press and hold of the switch will power off the LP12
LED Behaviour:

The red LED indicates 33 rpm mode
The green LED indicates 45 rpm mode
A bright LED indicates that the Lingo 4 is adjusting and calibrating the speed
A dim LED indicates that the LP12 is running at the correct speed
Power Up: The first time the Lingo 4 powers on it will use a default value to set the initial motor speed at 33 rpm. Calibration is then performed every few rotations, allowing the platter speed to settle between adjustments, until properly calibrated 33 rpm has been achieved. The calibrated setting for that LP12 is then saved in memory. This process usually takes around a minute. On subsequent power ups the most recently generated calibrated speed setting is recalled from memory and used as a starting point. Getting up to calibrated speed at 33 rpm from stationary then usually takes about half a minute (some time to reach speed, then a few calibration cycles to check and refine the speed). The results of this calibration cycle are then stored to memory.
Startup Mode: On startup the deck only ever spins at 33 rpm until it gets up to this speed, which usually takes about half a minute. Only after this will it attempt to adjust the speed if 45 rpm has been selected. Even if 45 rpm has been selected during the startup period and the LED has gone green, it won't actually try to change the speed to 45 rpm until 33 rpm has been achieved.
Operational Mode: If the platter is stopped or slowed down during operation (something which should not be done), the Lingo 4 will always revert to 33 rpm mode to recalibrate. Only after it has achieved 33 rpm will it switch back to 45 rpm mode if applicable. The LED does not turn red to indicate that it has switched to the 33 rpm calibration cycle if the LP12 is running at 45 rpm.
Changing Speed: If the LP12 switch is used to change the speed between 33 rpm and 45 rpm, the speed change happens within a few seconds; the calibration is what takes the extra time. The Lingo 4 will not attempt to change the speed to 45 rpm until it has callibrated at 33 rpm. If it appears to be taking longer than expected, it's possible that the deck is calibrating at 33 rpm before attempting to change to 45 rpm.
Box contents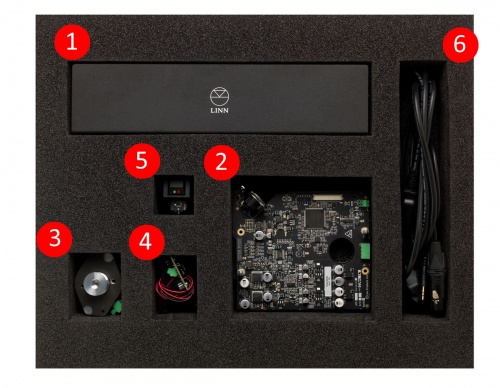 Main power supply assembly: This is placed outside the LP12. with power cable linking to the internally mounted motor speed control board.
Motor speed control circuit board: This is mounted within the LP12.
12V AC motor: New motor for Lingo4 operation
Tachometer: Platter speed monitor
2Speed LED switch: On/Off and speed control switch
Various cables
Installation
Your Lingo 4 will need to be installed and configured by your Linn retailer.

For further assistance, try our customer support pages