Keel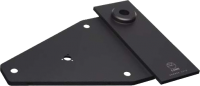 Product Information
Date of Introduction: Nov 2006
Type: Turntable sub-chassis
Description
The Keel is a combined sub-chassis, armboard and collar machined from one solid piece of aircraft grade aluminium alloy, providing rigid support to the tonearm and platter for even more accurate reproduction of your vinyl collection. There are no screws, fixings or joins between each part, which significantly reduces vibration for enhanced audio performance. The Keel has been engineered to maintain the same mass and centre of gravity as achieved with the separate sub-chassis, armboard and collar, ensuring that it integrates seamlessly with the suspension system of every Sondek LP12 turntable. The Keel is produced in a standard black anodised finish to complement the simple design of the Sondek LP12 turntable.
FOCUS ON LINN'S ADVANCED MACHINING METHODS
Sophisticated manufacturing processes have been developed for the Keel to ensure that the highest possible audio performance is achieved. We have taken great care to ensure that the Keel is completely free from any distortion which would degrade the audio performance. Our machining process enables us to hold the material securely around the edge in a stress-free manner when machining the part, as opposed to common machining methods which use huge clamps to hold the material in place, causing significant distortion. The bottom surface of the Keel is 'pocketed out' with a machining pattern designed for maximum strength, along with an overall weight and centre of gravity to match that of the original sub chassis, arm board and collar assembly. The differing wall thickness and depth of pocket variations break up vibration and also ensure correct weight distribution.

Installation
Your KEEL sub-chassis, will need to be installed and configured by your Linn retailer.
For further assistance, try our customer support pages