Template:Guide:Manage Systems App
Web-browser Appe called Manage systems that can also be used on your Tablet: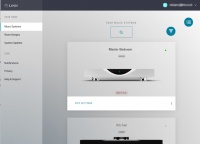 This does not have as many features as the Konfig App, above, but will allow you to do most of your changes.
Before you do anything you will need to have a Linn Account. This is a simple process and can only be performed using the Kazoo App.
Details on how to create your Linn Account and how to use Manage systems can be found in theManage Systems page.