Majik DSM

Getting Started
Product info
Date of Introduction: April 2012
Type: Integrated digital music player, preamplifier and power amplifier
Support
Latest software
Manuals
Third Party Software Copyright
Network Setup
Back Panel Connections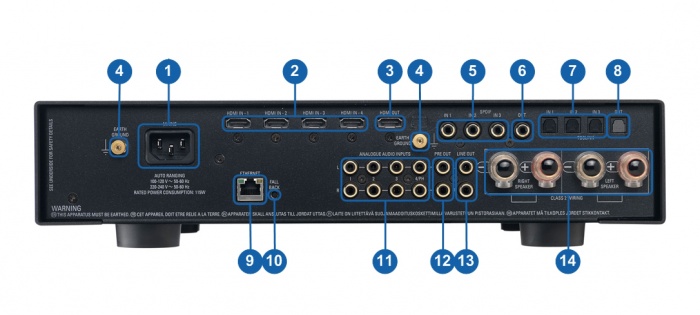 MAINS INPUT - To connect to the mains electricity supply.
HDMI INPUTS - To connect sources with HDMI outputs.
HDMI OUTPUT - To connect to a display device with HDMI inputs.
EARTH GROUND - To connect to a turntable grounding terminal, or an earthing terminal if no mains earth is available, or to join to the earths of other products in the system to improve performance in areas of poor/noisy electrical earth conditions.
DIGITAL INPUTS (Spdif) - To connect sources with Spdif (RCA) digital outputs.
DIGITAL OUTPUT (Spdif) - To connect to an external DAC or computer that has an Spdif digital input.
DIGITAL INPUTS (Toslink) - To connect sources with Toslink (optical) digital outputs.
DIGITAL OUTPUT (Toslink) - To connect to an external DAC or computer that has a Toslink (optical) digital input.
ETHERNET - To connect to a network.
FALLBACK - To put the device into Fallback mode (used when reprogramming)
ANALOGUE INPUTS (RCA, line level) - To connect sources with unbalanced (RCA) analogue outputs. Input 4 is a configurable input, which is factory set as a moving magnet phono input for connection to turntables. It can be changed by a Linn dealer to a line-level input or a moving coil phono input (moving coil is an optional upgrade).
ANALOGUE OUTPUTS (RCA, variable level) - To connect to a preamplifier (or power amplifier when internal volume control is enabled) with unbalanced (RCA) analogue inputs.
ANALOGUE OUTPUTS (RCA, fixed level) - To connect to an analogue recording device with unbalanced (RCA) inputs.
SPEAKER OUTPUTS - To connect to loudspeakers
Front Panel Connections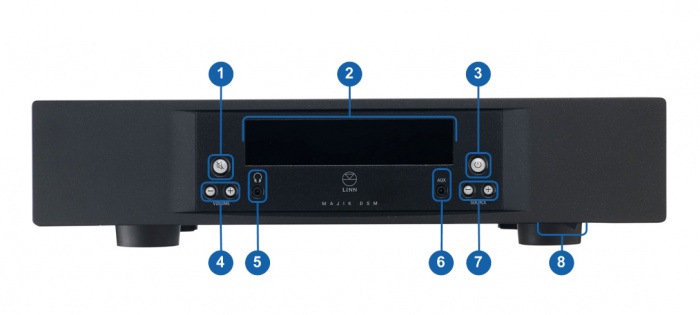 MUTE BUTTON - Mutes/unmutes the audio
FRONT PANEL DISPLAY
SLEEP BUTTON - Brings the unit in/out of sleep mode
VOLUME ADJUST BUTTONS - Changes the volume up/down
HEADPHONE OUTPUT (3.5mm stereo) - To connect to headphones
AUXILIARY SOURCE INPUT (3.5mm stereo) - To connect to an analogue stereo audio source
SOURCE SELECT BUTTONS - Changes to the previous/next source
POWER SWITCH- Switches the power on/off.
Installation
Please read the following carefully before installing the unit in your system – your unit may need to be reconfigured by your Linn retailer.

For further assistance, try our customer support pages or the Linn Forum.