Selekt DSM
From LinnDocs

Product info
Date of Introduction: September 2018
Type: Integrated digital music player and preamplifier
Support
Latest software
Manuals
Third Party Software Copyright
Network Setup
Front Panel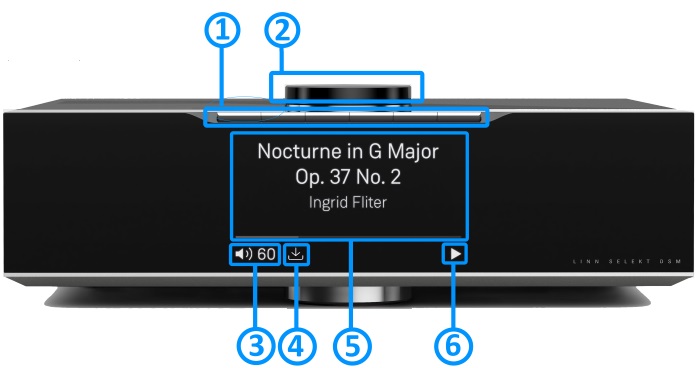 PIN BUTTONS - Personalised media selection Pins 1-6
CONTROL DIAL - Main control dial and switch interace
Back Panel Connections
Selekt DSM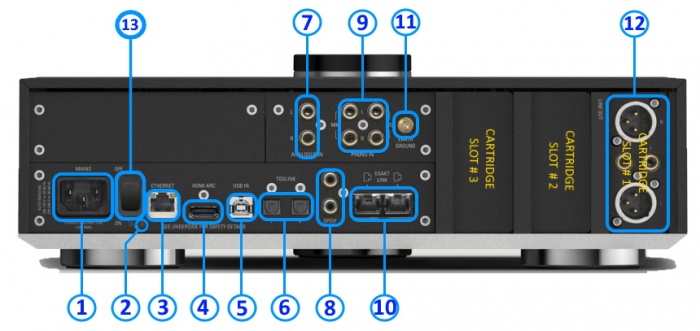 MAINS INPUT - To connect to the mains electricity supply.
FALLBACK - To put the device into Fallback mode (used when reprogramming).
ETHERNET - To connect to a network.
HDMI ARC - To connect to a TV Audio Return Channel (ARC) connection
USB - To connect to a PC/MAC for USB Audio playback
DIGITAL INPUTS (Toslink) - To connect sources with Toslink (optical) digital outputs.
ANALOGUE INPUTS (RCAline level) - To connect sources with RCA analogue outputs.
DIGITAL INPUTS/OUPUT (Spdif) - To connect sources with Spdif (RCA) digital outputs.
ANALOGUE INPUTS (RCA, MM/MC) - To connect a turntable with unbalanced (RCA) outputs.
EXAKT LINK- To connect to Exakt compatible devices
PHONO GROUND - To connect to a turntable grounding terminal.
ANALOGUE OUTPUTS (XLR & RCA,variable level) - To connect to a power amplifier.
POWER SWITCH - Mains power switch
Selekt DSM with integrated amplifier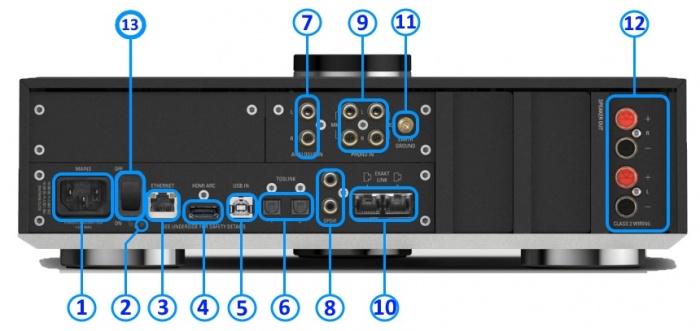 MAINS INPUT - To connect to the mains electricity supply.
FALLBACK - To put the device into Fallback mode (used when reprogramming).
ETHERNET - To connect to a network.
HDMI ARC - To connect to a TV Audio Return Channel (ARC) connection
USB - To connect to a PC/MAC for USB Audio playback
DIGITAL INPUTS (Toslink) - To connect sources with Toslink (optical) digital outputs.
ANALOGUE INPUTS (RCAline level) - To connect sources with RCA analogue outputs.
DIGITAL INPUTS/OUPUT (Spdif) - To connect sources with Spdif (RCA) digital outputs.
ANALOGUE INPUTS (RCA, MM/MC) - To connect a turntable with unbalanced (RCA) outputs.
EXAKT LINK- To connect to Exakt compatible devices
PHONO GROUND - To connect to a turntable grounding terminal.
POWER AMPLIFIER OUTPUTS - To connect directly to a pair of loudspeakers.
POWER SWITCH - Mains power switch
Installation
Please read the following carefully before installing the unit in your system – your unit may need to be reconfigured by your Linn retailer.
For further assistance, try our customer support pages .
FAQ's
Can the Selekt DSM play DSD music?
On initial release with Davaar firmware 65 DSD playback is unsupported. However later versions of Davaar firmware (Davaar 66 onwards, Nov 2018) will/do support DSD playback.
All four playback modules (Line-level/Power Amplifier, Katalyst/non-Katalyst) will support DSD playback with Davaar66+ firmware
USB playback is limited to PCM due to PC/MAC operating system transport.

Can I have both a Line level and Power amplifier module in the Linn Selekt?
No this is not a supported configuration.

Can I plug a USB stick into the USB socket of the Selekt DSM
No, this is only as another streaming source.
This can be plugged into a Windows7,8,10 PC or MAC and be a Sound card for these computers.
Exakt options
Exakt usage with the Selekt DSM can be found in Akurate_Exakt_System
Trouble shooting
Check Exakt trouble shooting