Sekrit DSM

Product info
Product Name: Sekrit DSM (2012 / 2018 Variant)
Date of Introduction: December 2012 - February 2022
Type: Integrated digital music player, pre-amplifier, and power amplifier
Dimensions: 345 mm (width) x 44 mm (height) x 196.5mm (depth)
Support
Latest software
Details of latest Product release software
Manuals
Third Party Software Copyright
Audio Latency
Back Panel Connections

MAINS INPUT - To connect to the mains electricity supply.
FALLBACK - To put the device into Fallback mode (used when reprogramming)
ETHERNET - To connect to a network (100Base-T)
HDMI OUTPUT - To connect to a display device with HDMI 1.4 inputs.
HDMI INPUTS - To connect sources with HDMI 1.4 outputs.
ANALOGUE OUTPUT (RCA, variable/fixed level) - To connect to subwoofer (note:when the internal volume control is disabled, this will also disable the internal Power amplifier/speaker outputs) with unbalanced (RCA) analogue inputs.
IR OUTPUTS - To connect to infrared flasher devices allowing control of other products that accept infra-red signals.
DIGITAL INPUT (Toslink) - To connect sources with Toslink (optical) digital outputs.
DIGITAL INPUT (Spdif) - To connect sources with Spdif (RCA) digital outputs.
ANALOGUE INPUT (line level) - To connect a turntable or line level source with unbalanced (RCA) outputs.
SPEAKER OUTPUTS - To connect to loudspeakers, Neutrik 4 pole connector
RC5 ACCESSORY - To connect Linn BASIK3 or BASIK3-IR Room Control units, (setup for RoomAmp2 connection (jumper link removed)). Standard IR receivers cannot be used in this socket. This requires a Knekt-CAT-5 cable to connect to the Linn DSM
Front Panel Connections

IR SENSOR - Recieves IR commands
DIAGNOSTIC LEDS - See table below for functionality
FALLBACK - To put the device into Fallback mode (used when reprogramming) (F-BACK)
POWER SWITCH- Switches the power on/off
IR REPEATER CLAMP- IR Repeater Clamp fixing screws
DIAGNOSTIC LED FUNCTIONS
Text

ON

indicates

OFF

indicates

Slow Flash / Blink

Fast Flash


IR
Pulse on IR command received
Reserved for future use
Reserved for future use
n/a
AMP
Internal amplifier enabled
Internal amplifier disabled
Internal amplifier fault
n/a
AUDIO
Valid audio (digital inputs only)
n/a
Invalid audio (digital inputs only)
n/a
IP
DHCP IP address obtained
Default IP address obtained
n/a
n/a
NET
Ethernet link established
no link established
n/a
n/a
STBY
Device in standby
Device active
Searching for IP address (boot)
Fallback (reprogramme)
Speaker Wiring
The Sekrit DSM has 4 DAC channels and 4 Power Amplifiers. These amplifiers can be configured in single ended mode or bridged mode. All speaker outputs (and Analogue Output) share the same common Volume control.
Connections to the speakers are made via Neutrik Speakon connectors, NL4FX. Neutrik Speakon Assembly Instructions
The single ended mode is best suited to bi-amping a pair of passive speakers or for driving multiple pairs of loadspeakers. Bridged mode is best suited to driving a single pair of loudspeakers.
The wiring details are shown below: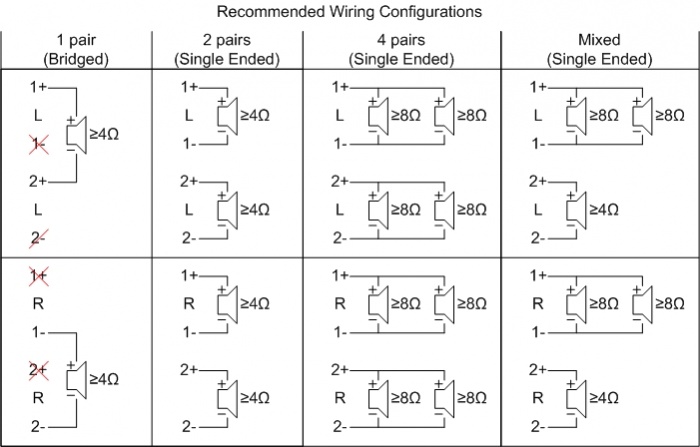 33W/channel in single-ended mode
50W/channel in bridged mode
Installation
Please read the following carefully before installing the unit in your system – your unit may need to be reconfigured by your Linn retailer.
FAQ's
Check:

For further assistance, try our customer support pages